[an error occurred while processing this directive]

The Zocalo Today

Welcome and thank you for dropping by. Take your shoes off, get comfortable and stay a while. There is a LOT of information here and you won't want to miss any of it.

The Zocalo Today is an interactive newsletter, encouraging readers to join a discussion topic or to send along letters that can be shared with other readers.

The Zocalo Today is a newsletter for Babylon 5 and science fiction fans everywhere. It is as much YOUR newsletter as it is mine! I'm just pulling together things for you!

Join our discussion topic. It is just one way you can share with other Z readers. If you see Babylon 5 cast and crew in other roles, let us know. We enjoy convention reports, photos, etc. Don't miss our back issues. I hope this will become more than just a newsletter. It's a community of people that enjoy sharing their experiences and interests. Babylon 5 brought many of us together -- and it remains with us, despite the fact that is no longer in production. Don't be shy. Join us today!

If you have questions, drop me a line at sgbruckner@aol.com. If you would like to join the mailing list for our newsletter, send me a note and I'll include you on the list. Or you can use the subscription block at the left.

Again, WELCOME!



Saturday, May 28, 2005:
RING 3:
Walter F. Parkes and Laurie MacDonald, the husband-and-wife dynamic producing duo, confirmed they are developing a third, scaled-down RING movie. In a recent news conference, they said the film won't necessarily need the same cast of Naomi Watts and the boy who plays her son, David Dorfman, who were in the first two horror movies. While out promoting their new film, THE ISLAND, they added, "We actually have a kind of cool approach to it. That's in the beginning stages. It's easy to scale down Ring 3 as a small picture that's not incredibly expensive. By its very nature it can be a small movie and doesn't need the same cast."
---
LOST:
The May 25 season finale of ABC's LOST averaged 20.7 million viewers and a very healthy 7.8 rating in the key demographic of adults 18-49, the series' third-best performance, behind only two January episodes that followed a month-long hiatus.
---
MEMORIAL DAY ACTIVITIES:
Here in Washington, Memorial Day is always a big celebration. This year, as in years past, a number of big-name actors will provide entertainment -- and everyone will be able to share in on the festivities -- PBS will broadcast the event Sunday, May 29, from the West Lawn of the U.S. Capitol.

Gary Sinise (who has spent a great deal of time going out to entertain troops) from CSI: NY also leads the Lt. Dan Band, named for his character in the Oscar-winning 1994 movie "Forrest Gump." The band will join Vanessa Williams, Joe Mantegna, country music's Trace Adkins and other talents in the 2005 National Memorial Day Concert. "We go out and play for the troops all the time," Sinise says of his band. "We've done several shows in the United States, and we've been over to Korea and Singapore. This is just a fantastic event, and we're honored to be a part of it. We're flying to it straight from a USO tour of Belgium, Germany and the United Kingdom." Busy with acting even before he began "CSI: NY," which starts its second season this fall, Sinise admits he hasn't seen a full National Memorial Day Concert. "I knew there was a big Memorial Day celebration in Washington, D.C.," he says, "and I had thought about being a part of it at one point. I was actually planning to go from the U.K. to Afghanistan to visit the troops, but we thought being a part of this event was something we might not get to do again."

This year's concert focuses on the 60th anniversary of Iwo Jima and on the current campaign in Iraq. The program also includes a tribute -- led by retired Gen. Colin Powell - to Ossie Davis, the esteemed actor who was the longtime host of the concert.
---
STAR WARS:
George Lucas' STAR WARS: EPISODE III REVENGE OF THE SITH has tied the record set by SPIDER-MAN 2 for fastest to the $200 million mark in just eight days. The third and final prequel has amassed $200.4 million in the time frame and already $356.9 million worldwide. REVENGE OF THE SITH has climbed to the 59th spot on the all-time domestic blockbuster list in its first week and is currently at #92 on the all-time worldwide list. It is expected to move up significantly on both lists over the Memorial Day holiday weekend. EPISODE III has also surpassed Sony's HITCH ($177.6 million) to become the biggest movie of 2005 so far in North America.
---
JOHN CARTER OF MARS:
Screenwriter Ehren Kruger is a busy man these days. Two of his projects are coming out this summer, BROTHERS GRIMM and THE SKELETON KEY. He is busy with scripts for BLOOD AND CHOCOLATE and JOHN CARTER OF MARS. "I'm in the writing process for JOHN CARTER OF MARS, working with the director — [Sky Captain's] Kerry Conran," says Kruger of the Edgar Rice Burroughs adaptation. "He's in, too, with his visual design team — the effects, and the sort of outlandish worlds that need to be created for that. He has to design all that. So we're pretty [well] along with the script. It's a faithful adaptation to the novels, but the novels were written in the teens and '20s, so there's some degree of modernization just to the tone of them. But in terms to the story, we are trying to be as faithful as we can because those novels inspired a lot of the science fiction and fantasy that came later in the century."
---
TOP SCIENCE FICTION NEWS STORIES:
To catch up on the latest news from around the world of science fiction, go to News Page. You'll find the highlights from your favorite shows -- and more.
---
TSUNAMI RELIEF
UCLA's Enigma club combines Science Fiction, Fantasy, Horror, Gaming and Real Science to bring a day of movie screenings, panels, vendors and gaming to the University of California, Los Angeles campus on May 28th, 2005 to benefit tsunami relief efforts.

Guests include:
Jason Carter (Marcus Cole) and Julie Caitlin Brown (Na'Toth) have just been confirmed as additional guests for EnigmaCon 2005.

* author Harlan Ellison
* Bab5 writer/producer J. Michael Stracynski
* Walter Koenig (Bester from Bab5, Chekov from the original Star Trek)
* Conner Trinneer (Trip Tucker from Enterprise)
* Battlestar Galactica executive producer (and longtime ST writer/producer) Ronald D. Moore
* comic book legend Len Wein
* Blizzard Entertainment's Vice President of Creative Development, Chris Metzen
* Elfquest artist Wendy Pini
* and many, many more from the fields of movies, video game development, comics, etc. etc.

We'll also have a free screening of Marina Sirtis' new movie, "Spectres" (and a couple of other movies as well.) For more info, check out http://www.enigmacon.org..
DISCUSSION TOPICS
With most of the shows having ended for this season (there are still a few to go), what did you think? Did you like the ending for SMALLVILLE, CSI, ENTERPRISE – any show that you watch regularly?

Send in your thoughts and comments to sgbruckner@aol.com. I will post them on the Discussion Page for everyone to share and enjoy. There are some good ones so far. Add yours! If you see an old topic you want to respond to, go right ahead. We enjoy hearing from you.
J. MICHAEL STRACZYNSKI - YARD SALE - BOOK OF G'KAR
The only item up at e-bay right now is the Book of G'Kar -- yes, the book where "Citizen G'Kar began to set down his philosophy, what he had learned about justice, revenge, compassion, the purpose of life, and maybe most important of all, what he had learned about forgiveness. We would frequently see him writing in this book, first in jail, then later, as we tracked his growth from a warrior into a statesman and deeply religious figure."
Visit http://search.ebay.com/_W0QQsassZbabylon5auctions to see this item listed under the seller name of "babylon5auctions". The description of this and all items placed in auction so far are as much fun to read -- as watching the selling competition. Items have included producer's script books, Captain Gideon's com link from CRUSADE, a uniform jacket and other props used during the series.
---
KEEPING UP WITH CAST AND CREW
PETER WOODWARD:
Peter Woodward (Galen on CRUSADE) will be hosting another cruise this year.
Dear Friends,
Please join me for a wonderful unique cruise experience where I've created exclusive events just for you! If you joined me last year, you already know what an amazing time we will have again this year. We will all create memories of a lifetime together. I have arranged a unique opportunity for us to spend time together. This will be a cruise with a ifference.
Join me in this unique event, get to know me, and combine fact and fantasy, history and humor, archeology and ancient weapons, on a cruise into adventure.

Looking forward to toasting the sunset together!!
Peter

For more information, go to http://www.cruiseevents.net/peterwoodward/index.htm. To see photo's from Peter's fan club cruise last year visit: http://www.cruiseevents.net/peterwoodward/photocruise05.htm
---
PAT TALLMAN:
Dennis Madalone was the stunt coordinator on many Star Trek series. He's also a singer and is giving away DVDs and CDs in lieu for donations to charities on his home page. Pat Tallman's Penny lane will be added to that charity listing this week. Check out Dennis' website at www.americawestandasone.com.
---
Pat's sister Mary is working to make a difference -- she has signed up to run in two triathalons in Illinois to help raise funds for cancer research. I have posted Mary's letter out at Pat Tallman. Read about Mary's efforts and how you can help make a difference too.
---
MIRA FURLAN:
Mira will be one of the LOST guests at the LOST FAN CONVENTION in Burbank, California, on Saturday, June 11, 2005! Others from the cast attending will be EMILIE de RAVIN Claire Littleton - Sunday ; JORGE GARCIA Hugo "Hurley" Reyes - Saturday; WILLIAM MAPOTHER Ethan Rom - Saturday; JOHN TERRY Dr. Christian Shephard - Sunday, and from the LOST Production Team: Executive Producers DAMON LINDELOF and BRYAN BURK appearing on Sunday. For more information, go to http://www.creationent.com/cal/lost.htm.
---
JOHN COPELAND:
John Copeland's ALIEN PLANET and THE SCIENCE OF STAR WARS premiered on The Discovery Channel last week. For more information, go to http://dsc.discovery.com/convergence/alienplanet/splash.html. Check your local listings for air dates/times.
---
CLAUDIA CHRISTIAN:
Claudia will be participating in the CONSTELLATION convention this weekend in Paris. Appearing with her will be Denise Crosby, Tony Amendola and Vaughn Armstrong. For more information, go to http://www.constellation-conventions.com/entreef.html.
---
SPECIAL CAST ACTIVITIES: To learn more about what cast members are doing away from the tube, go to CAST ACTIVITIES page.
---
IN MEMORY OF: While Rick (Biggs) and Tim (Choate) are no longer with us, we will not forget their wonderful personalities and talent. Be sure to visit In Memory Of for more information about memorial efforts. Until we met again, in a place where no shadows fall.
BABYLON 5 BIRTHDAYS
Theodore Bikel - May 2
Michael O'Hare - May 6
Stephen Furst - May 8
Melissa Gilbert-Boxleitner - May 8
Bruce Boxleitner - May 12
Andreas Katsulas - May 18
Andrea Thompson - May 22
Doug Wise - May 21
Douglas Netter - May 23
Paul Winfield - May 22
Roy Dotrice - May 26
Harlan Ellison - May 27

Have I missed anyone? If you know the birthday of someone connected with Babylon 5, pass the information along. We want to include everyone in our Happy Birthday Wishes.
BABYLON 5 DVDS
For information on the Babylon 5 DVDs, please go to Babylon 5 DVD page.




BABYLON 5 NOVELS COMING

Mongoose Publishing is proud to announce an agreement with Warner Brothers to produce an all new range of novels and graphic novels for Babylon 5. They promise some exciting tales lined up, delving into never-before- explored areas of the Babylon 5 universe and expanding the storyline beyond the TV series. Releases will begin appearing in Q4 2005 - more news on authors and storylines coming soon! Thanks Ranger Joe for the report.
DVD NEWS AND REVIEWS
NEW AND UPCOMING DVDS:
GLADIATOR
According to the Hollywood Reporter, DreamWorks is readying an extras-packed "expanded" edition DVD of GLADIATOR which will include 17 minutes of additional footage as well as commentary from Russell Crowe. The new DVD will include "such special features as Scott's storyboard sketches, a feature-length documentary on how the filmmakers had to digitally salvage Oliver Reed's final performance as Proximo after the actor died during filming, and interviews with filmmakers detailing the story's historical origins and its transition from script to screen." This three-disc set will be released on August 23 with a retail price of $25.
---
MACGYVER Fans - Season Two will be released on June 7. You can pre-order the DVD over at www.amazon.com. Here are the description of what is on the set:
MacGyver is no ordinary secret agent. He never carries a gun. His drinks aren't shaken or stirred. And he fights for justice using the most dangerous weapon of all: his intelligence. Richard Dean Anderson stars as television's favorite boy scout-turned-action hero: Angus MacGyver. When an American pilot is shot down over Central America or a top-secret missile is stolen, the authorities call on MacGyver, a former Special Forces agent, to save the day. When all other means of solving problems are exhausted, a call goes out for MacGyver.
---
"LOST" DVD FOR SEASON ONE
Here is an offer you may want to consider if you are a LOST Fan. You can own the complete fantastic first season plus some nifty extras in this unbelievable exclusive for Creation Entertainment customers:
EVERY ORDER will receive a complimentary hand-signed autographed full color glossy photo of a MAJOR LOST CAST MEMBER!!! That's right: EVERYONE IS A WINNER: EVERY ORDER gets this extraordinary bonus offer! Order today and we'll deliver your DVD set upon release date of September 6, 2005.
Encoding: Region 1 (U.S. and Canada only. This DVD will probably NOT be viewable in other countries) Format:Color, Closed-captioned, Dolby DVD
DVD Features:
Available Audio Tracks: English (Dolby Digital 5.1)
- The Original Pilot Tales From The Island - new behind-the-scenes featurette
- Lost Revealed - expert panel dissects the Series
- Backstage With Drive Shaft - behind the music featurette
- The Art Of Matthew Fox - on-set photography Before They Were Lost - original casting tapes
- Blooper Reel
- Rare Deleted Scenes
- Audio Commentaries
Number of discs: 7
Go to Creation Entertainment for more details and to order.
CONSTANTINE:
Warner Home Video has announced a July 19 release for Constantine on DVD. The film, starring Keanu Reeves in an adaptation of DC Comics' Hellblazer, has made $74.1 million domestically at the box office.
The Deluxe Edition includes audio commentaries (director Francis Lawrence, producer Akiva Goldsman and screenwriters Kevin Brodbin and Frank Capello), 18 minutes of deleted scenes (including an alternate ending) with optional commentary by director Francis Lawrence, "The Production From Hell," "Imagining the Underworld" (includes a 'Demon Face' Easter Egg), "Foresight: The Power of Pre-Visualization" and "Conjuring Constantine" featurettes, A Perfect Circle's "Passive" music video, theatrical trailers, DVD-ROM content and a collectible Hellblazer comic.
Warner describes the film in this way:
: "Based on the DC Comics/Vertigo Hellblazer graphic novels and written by Kevin Brodbin and Frank Cappello, Constantine tells the story of John Constantine (Keanu Reeves), a man who has literally been to hell and back. When he teams up with skeptical policewoman Angela Dodson (Rachel Weisz) to solve the mysterious suicide of her twin sister, their investigation takes them through the world of demons and angels that exists just beneath the landscape of contemporary Los Angeles. Caught in a catastrophic series of otherworldly events, the two become inextricably involved and seek to find their own peace at whatever cost."
The DVD will feature 18 minutes of additional scenes.


RACING STRIPES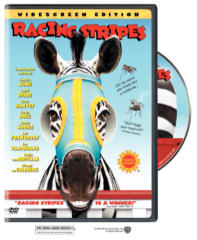 Here is some terrific family fun! Root for the underzebra when Racing Stripes comes to DVD and VHS on May 10 from Warner Home Video. The barnyard ballyhoo features the voices of Frankie Muniz (Agent Cody Banks movies, TV's "Malcolm in the Middle"), Jeff Foxworthy (Blue Collar Comedy Tour), Snoop Dogg (Starsky & Hutch, Soul Plane), Steve Harvey (You Got Served, The Fighting Temptations), David Spade (Dickie Roberts: Former Child Star, Just Shoot Me), Dustin Hoffman (Meet the Fockers, Finding Neverland), Mandy Moore (A Walk to Remember, Saved!) and Whoopi Goldberg (Sister Act, Ghost). The Racing Stripes DVD special features include three making-of featurettes, additional scenes, an interactive comic book and more!
For more information, go to our Racing Stripes page.
Universal Studios Home Entertainment will release a "Jaws 30th Anniversary Edition," two-DVD set loaded with extras, including a two-hour documentary about the movie, on June 14th. Additional bonus material will include deleted scenes and outtakes as well as production photos, and story boards. They are also including "a rarely seen interview with Spielberg on the set of the film." The DVD will retail for about $23.
STAR TREK: ENTERPRISE:

Star Trek: Enterprise - The Complete First Season will be released on May 3. You will find a sticker on the packaging promoting the show's 2-hour finale on 5/13 on UPN.
Paramount has confirmed the DVD release of Star Trek: Enterprise - The Complete Second Season on 7/26 (two weeks later than the previously announced 7/14 date). The 7-disc set will include all 26 second season episodes in anamorphic widescreen video with Dolby Digital 5.1 audio. There's no word yet on extras other than that the set will include 5 behind-the-scenes featurettes.
We have a lot of information on new WB DVDs. Visit our NEW DVD Page for press releases and video clips that may be of interest to you. Information includes KUNG FU, MI-5, Carnivale, Troy, The Matrix, and more.
Visit to the Review Page for a review of the DVD sets.
NEW BOOKS COMING
From the latest issue of Previews: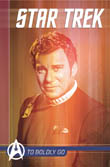 STAR TREK COMICS CLASSICS VOLUME 1: TO BOLDLY GO TP
by Barr, Sutton & Villagran
Collects DC's Star Trek Series One #1-6. This collection marks the debut of Titan's new Star Trek Comics Classics series, reprinting every DC's Star Trek comics in order for the very first time! In the aftermath of Star Trek II: The Wrath of Khan, the crew of the Enterprise must discover the secret of Klingon cloaking technology.
CINEFANTASTIQUE VOLUME 37 #6 & #7 – SEPTEMBER/OCTOBER 2005
With the Fall comes CFQ's annual TV special issue, offering complete stories and episode guides to Stargate SG-1, Stargate Atlantis, Battlestar Galactica, and Smallville. Plus a show-by-show preview of the genre series to watch in the coming year, including Lost, Alias, Medium, Fathom, and more! (Cinefantastique) (CAUT: 4)
Magazine, 8x11, FC..........$7.99
BATTLESTAR GALACTICA MAGAZINE #1
NEWSSTAND EDITION
PREVIEWS EXCLUSIVE EDITION
Following the Battlestar Galactica souvenir magazine, Titan launches the official Battlestar Galactica Magazine. The 68-page, bi-monthly magazine features star interviews, behind-the-scenes reports, exclusive imagery, and all the latest hot news! (Titan) NOTE: Not available in the U.K.
NEWSSTAND EDITION-Magazine, 8x11, 68pgs, FC..........$6.99
PREVIEWS EXCLUSIVE EDITION-Magazine, 8x11, 68pgs, FC..........$6.99
STARBURST SPECIAL #71 – BATTLESTAR GALACTICA
Battlestar Galactica is returning with a full thrilling year of 20 new episodes. Take an in-depth look at Ronald D. Moore's searing reimagining of the 1970s sci-fi series. Includes interviews with cast and production talent! Also, coverage on Stargate SG-1, Stargate: Atlantis, and The Fantasic Four film. (Visual Imagination)
Magazine, 8x11, FC..........$9.99
MOONSTONE'S KOLCHAK BOOK
Moonstone Books has announced an October release for Kolchak: The Night Stalker Chronicles, a 320-page book with 26 new short stories and spot illustrations.
The book coincides with the new Kolchak television series on ABC.
Contributors include Max Allan Collins, Stuart M. Kaminsky, Ed Gorman, Elaine Bergstrom, PN Elrod, Robert Weinberg, Brett Matthews, CJ Henderson, Mark Dawidziak, Richard Valley, James Bates, Peter David, Chuck Dixon, Steven Grant, Mike W. Barr, Gary Phillips,Fred Van Lente, Adi Tantimedh, Martin Powell, Clay and Susan Griffith, James Kuhoric and Jason Henderson.
The 320-page book will measure 6" x 9" and will cost $18.95. It features a cover by Doug Klauba.
STARGATE: ATLANTIS—THE OFFICIAL COMPANION SEASON 1 SC
First there was the blockbuster Stargate movie, then the smash hit TV series Stargate SG-1, and now there's the equally successful spin-off show: Stargate Atlantis! The official companion to the first season is packed with behind the scenes interviews, an episode guide, and scores of photos, including a 16-page color gallery! (133/1-84576-116-2)
SC, 6x9, 176pgs, PC..........$14.95
STARGATE SG-1
Entitled "City of the Gods", it is written by Sonny Whitelaw and follows the team as they encounter an Aztec culture on an unstable, tectonically active moon. As Jack would say, that spells earthquakes, lots of 'em... Join the team for a ringside seat at the end of the world! For more information, visit www.stargatenovels.com/cityofthegods.shtml.
Ranger Tom reports that Amazon.co.uk have also done a pretty good job of stocking the books, although occasionally they fail to keep up with demand and one of the titles will go out of stock. This means you see the message, "usually dispatched within 4 to 6 weeks", but generally they restock the books within 3-4 days. www.amazon.co.uk/exec/obidos/ASIN/0954734335/stargasg1nove-21
You can also order it from website - www.stargatenovels.com/bookshop.php.. You can also pre-order the latest book now, and we will do everything we can to ship it on 18 April.
SCIENCE FICTION PUBLICATIONS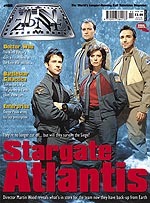 TV Zone #190: STARGATE ATLANTIS: With the second season of the series looming on the horizon, veteran Stargate director and co-producer Martin Wood talks about some of what we can expect to see. Wood has quite a history with STARGATE. He first came on board STARGATE with "Solitudes" in the first season. Since then, he's directed more than 50 Stargate adventures, including several instalments of its sister series Stargate Atlantis. It's been quite a memorable experience for him in more ways than one. Also in this issue, Battlestar Galactica co-executive producer and writer Toni Graphia explains how the hit Sci-Fi show is set to explore darker territory in its second season as the Cylon menace spreads





Cult Times #117: SMALLVILLE -- This issue looks at the fourth season and the latest events in the lives of Clark Kent, Lex Luthor and others. Also in this issue, STARGATE SG-1's Robert Cooper reveals what treats are in store for the revamped, unstoppable Sci-Fi juggernaut.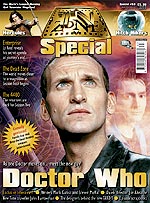 TV Zone Special #63: DOCTOR WHO: "You can wait 16 years for a new Doctor, and then two come along. We take a sensational voyage through the new series with a wealth of interviews and features, plus a glimpse of things to come for David Tennant in Season 2!" THE DEAD ZONE is coming back and This issue has an interview with producer Robert Petrovich who reveals challenging aspects of the new season's shoot, and why it should appeal to new and long-term fans.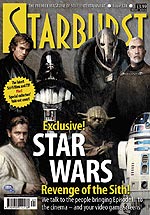 Starburst #324: STAR WARS: In this issue devoted to STAR WARS, you'll get an exciting three-page fold-out cover in association with Lucas Arts for the Revenge of the Sith video game; Revenge of the Sith's stunt co-ordinator and sword master Nick Gillard talks exclusively about how he crafted the greatest showdown in the galaxy; the associate producer of the hotly anticipated Revenge of the Sith video game, Justin Lambros , tells all about creating an interactive Anakin for a pioneering adventure, and the original Boba Fett, Jeremy Bulloch, talks about the bounty hunter's enduring appeal and his cameo on Revenge of the Sith!
Expose #94: HARRY POTTER: In this issue, you'll learn more about the weird and wonderful world of unlicensed fan fiction as it pushes back the boundaries of JK Rowling's fictional world… and, in some cases, the boundaries of taste. HERCULES: NBC's new mini-series explores the darker side of the Greek hero. Meet star Paul Telfer as he talks about taking the character back to his murderously gory origins, and how he pushed to play the character with an English accent.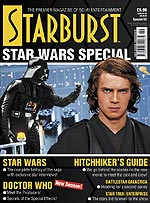 Starburst Special #69: STAR WARS SPECIAL: This issue contains: The Complete History -- From The Phantom Menace to Return of the Jedi, we look at the complete six-chapter epic; Dark Influences -- 10 ways the Star Wars trilogy has influenced Revenge of the Sith, and Archive Interviews -- Original Starburst interviews with Mark Hamill, Harrison Ford, Carrie Fisher, Empire Strikes Back director Irvin Kirshner and Return of the Jedi director Richard Marquand.
COMIC BOOKS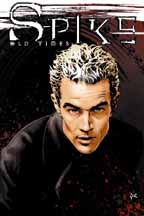 SPIKE ONE-SHOT
IDW Publishing has released additional details about Spike: Old Times, a 48-page one-shot in August featuring the character from the Angel television series.
Here's how IDW describes the book, which is written by Peter David and drawn by Fernando Goni:
"On a dark night in the 1880s, an elegant woman, named Cecily humiliates William, a young poet who flees into the night... not realizing it would turn out to be the first night of the rest of his unlife. Now, over a century later, the elegant Cecily is a vengeance demon known as Halfrek is aiming to destroy yet another young poet. But this time, William the Vampire‹the renowned Spike‹is at hand to even the odds."
"I always figured the business of having Spike and Halfrek 'recognize' each other in the episode 'Older and Far Away' was nothing but an in-joke shout-out to actress Kali Rocha's having played both Halfrek and, in the previous season's episode Fool for Love, Spike's lost love, Cecily," David said.
"But in the Whedon-verse, there's no such thing as an in-joke that can't be milked for all it's worth. And I figured there was plenty worth milking here. Quite simply, it was an episode that I wanted to see, and since it can't ever be done by Mutant Enemy, writing the story myself is the next best thing
AUGUST COMICS:
AMAZING SPIDER-MAN #523
Written by J. Michael Straczynski, penciled by Mike Deodato, cover by Terry Dodson.
"Moving Up." It's the sensational Spider-Man versus the horrendous hordes of Hydra as the villainous organization makes its final push to seize control of the country! Standing in the way? Everyone's favorite wall-crawler. But will Spidey have enough left in the tank to take out the group of terrorists and save the day? Part 5 of 6.
32 pages, $2.50, in stores on Aug. 3.
FANTASTIC FOUR #530
Written by J. Michael Straczynski, pencils and cover by Mike McKone.
It's a reunion with destiny as the Fantastic Four once more brave the hazards of outer space for a rendezvous with a fateful cosmic storm ­ And the secret that lies therein!
32 pages, $2.99, in stores on Aug. 24.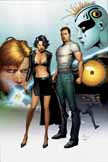 SUPREME POWER #18
Written by J. Michael Straczynski, pencils and cover by Gary Frank.
"Exhibit R: The Statement of Mark Milton." Hyperion's world is turned upside down when his dark secret is exposed to the entire world. But the worst is yet to come... Next month's news will blow you away!
32 pages, $2.99, in stores on Aug. 31.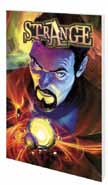 STRANGE: BEGINNINGS AND ENDINGS TPB
Written by J. Michael Straczynski and Sara "Samm" Barnes, penciled by Brandon Peterson, cover by Peterson.
Brash young surgeon Dr. Stephen Strange is on a collision course with destiny -- a journey that will force him to search the deepest corners of his own heartŠand the outer reaches of the cosmos! Masters of the comic-book medium J. Michael Straczynski, Samm Barnes and Brandon Peterson chronicle the adventures of the Master of the Mystic Arts in the year's most highly anticipated origin story! Collects Strange #1-6.
144 pages, $17.99.
AMAZING SPIDER-MAN #522
Written by J. Michael Straczynski, penciled by Mike Deodato, cover by Kaare Andrews.
It's an action-packed extravaganza as the hordes of Hydra make a final push to take over the United States!! And it's up to everyone's favorite red, white, and blue web-slinger to make sure that "Hail Hydra" isn't the new national anthem!
FANTASTIC FOUR #529
Written by J. Michael Straczynski, pencils and cover by Mike McKone.
"Appointment Overdue!" Reed's got a rendezvous to keep at the edge of space‹but in order to reach it, he's going to have to work his way through a battalion of America's best-trained fighting men!
JMS COMIC BOOKS: For a listing of current comic books written by J. Michael Straczynski, go to JMS COMIC BOOK page. There is a brief synopsis of the book and a date when publication is expected. This will cover AMAZING SPIDERMAN, FANTASTIC FOUR, STRANGE, RISING STARS, and others. For other comic book titles for such shows as STARGATE, SERENITY, etc., go to COMIC BOOKS - OTHER TITLES.
NEW TOONS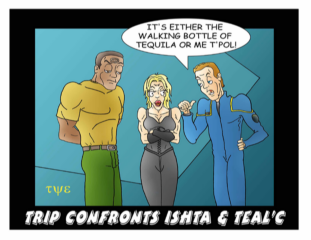 Tye Bourdony has sent along his latest satires for your enjoyment.
TV SCHEDULE ON SCIFI CHANNEL
STARGATE SCHEDULE:
05/30/2005 06:00 PM STARGATE SG-1 (SEASONS 1-5) A HUNDRED DAYS
05/30/2005 07:00 PM STARGATE SG-1 (SEASONS 1-5) DOUBLE JEOPARDY
05/30/2005 08:00 PM STARGATE SG-1 (SEASONS 1-5) EXODUS - PT 1
05/30/2005 09:00 PM STARGATE SG-1 (SEASONS 1-5) ENEMIES - PT 2
05/30/2005 10:00 PM STARGATE SG-1 (SEASONS 1-5) THRESHOLD - PT 3
05/31/2005 06:00 PM STARGATE SG-1 (SEASONS 1-5) SHADES OF GREY

STARGATE ATLANTIS:
06/03/2005 09:00 PM STARGATE ATLANTIS THE DEFIANT ONE
06/03/2005 12:00 AM STARGATE ATLANTIS THE DEFIANT ONE
06/10/2005 09:00 PM STARGATE ATLANTIS HOT ZONE
06/10/2005 12:00 AM STARGATE ATLANTIS HOT ZONE
06/17/2005 09:00 PM STARGATE ATLANTIS SANCTUARY
06/17/2005 12:00 AM STARGATE ATLANTIS SANCTUARY
06/24/2005 09:00 PM STARGATE ATLANTIS BEFORE I SLEEP
06/24/2005 12:00 AM STARGATE ATLANTIS BEFORE I SLEEP

BATTLESTAR GALACTICA:
06/03/2005 10:00 PM BATTLESTAR GALACTICA TIGH ME UP, TIGH ME DOWN
06/03/2005 01:00 AM BATTLESTAR GALACTICA TIGH ME UP, TIGH ME DOWN
06/10/2005 08:00 AM BATTLESTAR GALACTICA (1970S) THE MAN WITH NINE LIVES
06/10/2005 09:00 AM BATTLESTAR GALACTICA (1970S) MURDER ON THE RISING STAR
06/10/2005 10:00 AM BATTLESTAR GALACTICA (1970S) BALTAR'S ESCAPE
06/10/2005 11:00 AM BATTLESTAR GALACTICA (1970S) EXPERIMENT IN TERRA
06/10/2005 12:00 PM BATTLESTAR GALACTICA (1970S) TAKE THE CELESTRA
06/10/2005 01:00 PM BATTLESTAR GALACTICA (1970S) GREETINGS FROM EARTH PART 1
06/10/2005 02:00 PM BATTLESTAR GALACTICA (1970S) GREETINGS FROM EARTH PART 2
06/10/2005 03:00 PM BATTLESTAR GALACTICA (1970S) THE HAND OF GOD
06/10/2005 10:00 PM BATTLESTAR GALACTICA HAND OF GOD
06/10/2005 01:00 AM BATTLESTAR GALACTICA HAND OF GOD
06/17/2005 10:00 PM BATTLESTAR GALACTICA COLONIAL DAY
06/17/2005 01:00 AM BATTLESTAR GALACTICA COLONIAL DAY
06/24/2005 10:00 PM BATTLESTAR GALACTICA KOBOL'S LAST GLEAMING - PT 1
06/24/2005 01:00 AM BATTLESTAR GALACTICA KOBOL'S LAST GLEAMING - PT 1
BABYLON 5/CRUSADE PHOTOSHOP PHOTOS
You do NOT have to pay the prices asked for over at e-bay! Here are photos of B5 and Crusade cast members at fantastic prices. Check out Photo Shop. Ordering is easy -- and you can't beat the prices! Just let me know which photos you want and I'll check to make sure they are still in stock.
---
CONVENTION CALENDAR
May 27-29, 2005
OFFICIAL STARGATE SG-1 CONVENTION TOUR
Location: London, England
Guests: Christopher Judge, Michael Shanks, Don S. Davis
For more information, go to: http://www.fansofstargate.com/
---

May 27-29, 2005
MARCON
Place: Hyatt Regency, Columbus OH
Media Guest: Richard Hatch
For more information, go to http://www.marcon.org/
---

June 3-5, 2005
Wizard World, Philadelphia
Place: Philadelphia, PA
Site: Pennsylvania Convention Center
B5 Guest: J. Michael Straczynski
Other Guests: Jeremy Bulloch, Kenny Baker, Peter Mayhew (Star Wars)
For more information, visit http://www.wizarduniverse.com/conventions/philadelphia.cfm
---

June 3-5, 2005
ConCarolina 2005
Place: Marriott Executive Park
City: Charlotte, NC
B5 Guests: Ken Foree ("Gropos"), author Gregory Keyes
Other Guests: David Franklin (Farscape)
For more information, go to http://www.secfi.org/concarolinas/
---
June 4-5, 2005
FANGORIA'S WEEKEND OF HORRORS
Place: Burbank Airport Hilton and Convention Center
Guests: Rob Zombie, Sheri Moon Zombie, Bruce Campbell, Wes Craven, Tobe Hooper, Jennifer Tilly, Kelly Stables and many more
For more information, go to http://www.creationent.com/cal/dod.htm.
---

June 10-12, 2005
2005: A Fan Odyssey
Place: Sheraton, Culver City, CA
B5 Guest: Jason Carter
Other Guests: Nicholas Lea, Once a Thief's Victor Mansfield and The X Files's Alex Krycek ; Stan Kirsch, Highlander's Richie Ryan; Mark Ryan, swordmaster and actor, Robin of Sherwood's Nasir ; Bruce A. Young, swordmaster and actor ; (Highlander's Carl Robinson and The Sentinel's Simon Banks); James Horan, Highlander, Star Trek, Charmed; Roberta Brown, swordmaster and actor; Maureen Russell, author of The Complete Watchers Guide and The Best of Highlander
For more information, go to http://www.fanodyssey.org/
---

June 11-12, 2005
LOST FAN CONVENTION
Place: Burbank, CA
Guests: EMILIE de RAVIN Claire Littleton - Sunday ; JORGE GARCIA Hugo "Hurley" Reyes - Saturday; MIRA FURLAN Danielle Rousseau - Saturday; WILLIAM MAPOTHER Ethan Rom - Saturday; JOHN TERRY Dr. Christian Shephard - Sunda, and from the LOST Production Team: Executive Producers DAMON LINDELOF and BRYAN BURK appearing on Sunday.
For more information, go to http://www.creationent.com/cal/lost.htm
---

June 25-26, 2005
THE OFFICIAL BATTLESTAR: GALACTICA Convention
Place: The Burbank Airport Hilton Hotel
Guests: KATEE SACKHOFF (LT. KARA "STARBUCK" THRACE), JAMIE BAMBER (CAPTAIN LEE "APOLLO" ADAMA), JAMES CALLIS (DOCTOR GAIUS BALTAR), TRICIA HELFER (Number Six), RONALD D. MOORE (Executive Producer/ Show Developer) and GABRIEL KOERNER (Visual effects Artist)
For more information, go to http://www.creationent.com/cal/bsgbur.htm
---

June 25-26, 2005
LONDON FILM & COMIC CON
Location: London, England
Guests: to be announced
For more information, go to: http://www.londonfilmandcomiccon.com/
---

June 30-July 4, 2005
WESTERCON
Place: Calgary, Alberta, Canada
For more details, go to http://www.calgaryin2005.org/
---

Be sure to visit the referenced sites to see if there have been changes in dates/guests attending. Visit our Convention Calendar for a full listing of upcoming conventions.
BACK ISSUES OF THE ZOCALO TODAY
The front page of the The Zocalo Today changes daily, so be sure to check the back issues to make sure that you haven't missed anything IMPORTANT! I don't want the front page getting too long so I shift information periodically into the archives. So if you aren't a regular visitor to The Zocalo Today, be sure to check out the back issues. Just use the button above!
---
Take care and I look forward to hearing from you.
Sandra Bruckner (sgbruckner@aol.com)
Editor/Publisher
ISN News: The Zocalo Today
http://www.isnnews.net
Copyright - SBruckner, 1999-2005
Search Engine Optimization and Free Submission